ingredients that are nourishing. gentle. simple.
need suggestions on where to start?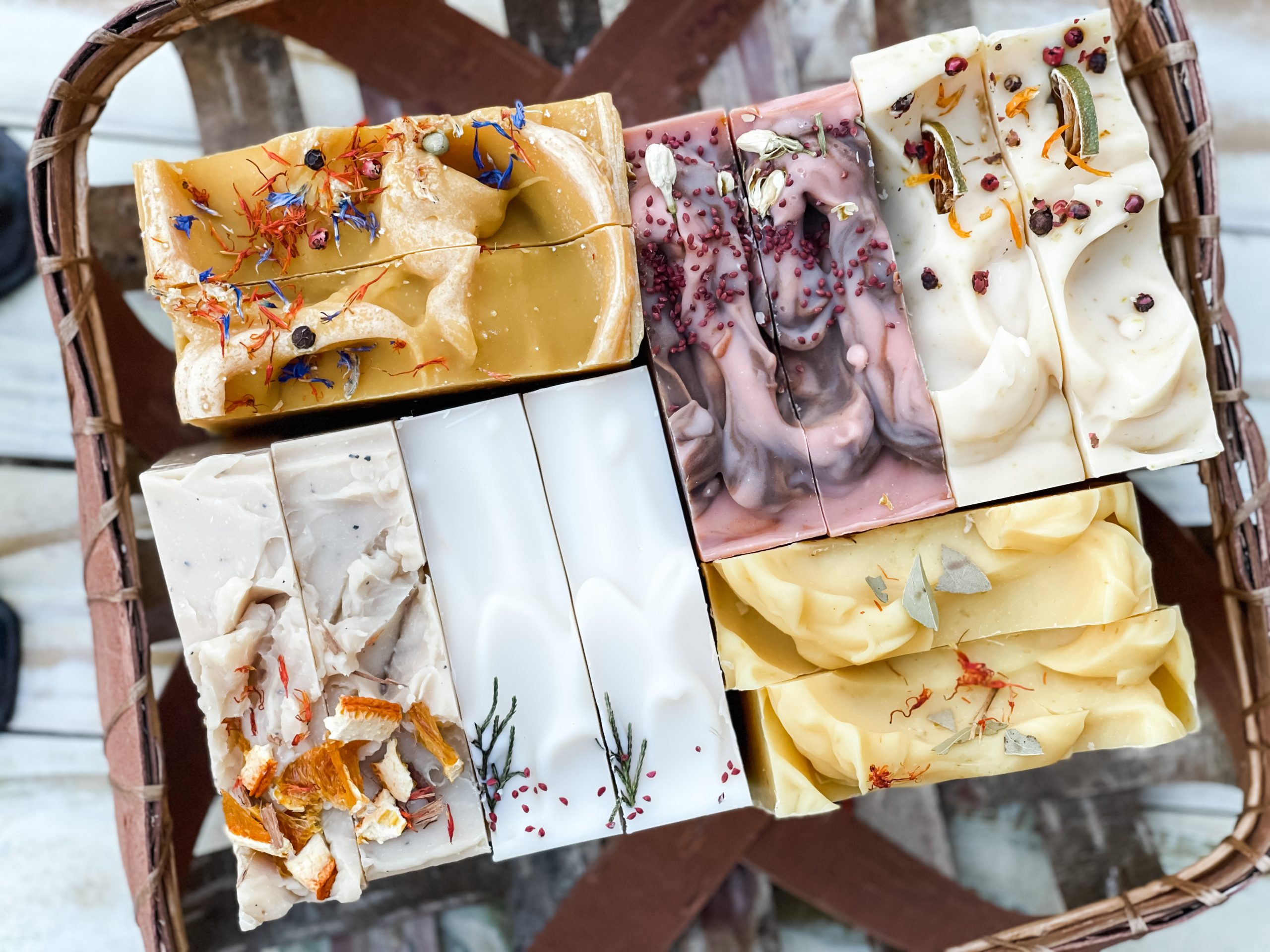 nourishing, gentle, simple, botanical soap created the old fashioned way! handcrafted in a variety of blends as well as seasonal ltd. edition blends
treat a loved one to a sweet, all natural set of botanical soaps, body butters, bath butters or bombs & shower steamers, facial care or bath accessories.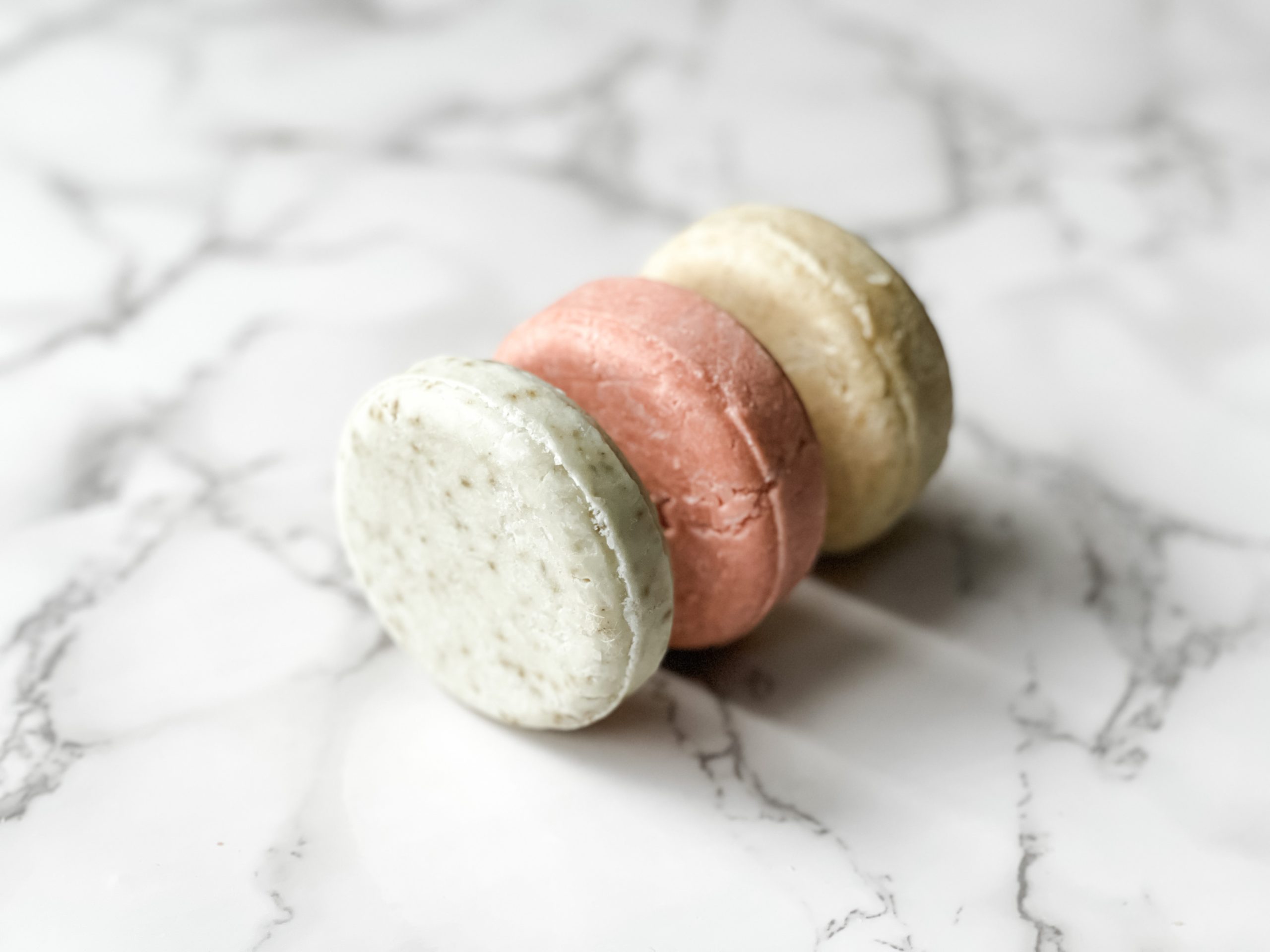 shampoo & conditioner bars
ready to make the switch from plastic to zero waste shampoo and conditioner bars.  we have the perfect ph balanced bar for your haircare needss.
New products have arrived!
 We're so excited to share with you all of the amazing, new zero-waste, all-natural products that are now available!  Our new PH balanced Shampoo Bars & Conditioner Bars, Whipped Bath Butter Body & Face Scrubs with Dead Sea Salts, our Woodsman Beard Oil (to compliment and go along with our Woodsman Beard Balm).  New Botanical Soap blends are almost gone for Summer.  We're in the final weeks of curing for our Autumn Botanical Bars, with favorites from last year making a return!  We're still working hard at fine-tuning our Essential Oil Blends Body Sprays & Shave Soaps they had to be set aside for a brief period, but we do have our amazing Bubble Truffles available!  If you love bubble baths then you definitely want to snag some up for yourself or to gift! Make sure you're subscribed to our newsletter so you never miss an update on new releases! Subscribe using the sign-up box at the bottom of this page or click here.
I just recently tried their soap & body butter, I am a guy, who has extremely dry skin, as well as chronic psoriasis, I have to say her products are amazing. I noticed an immediate difference in my itching, redness and plaque the psoriasis causes, skin felt soothed as well. Do yourself a favor and buy from them!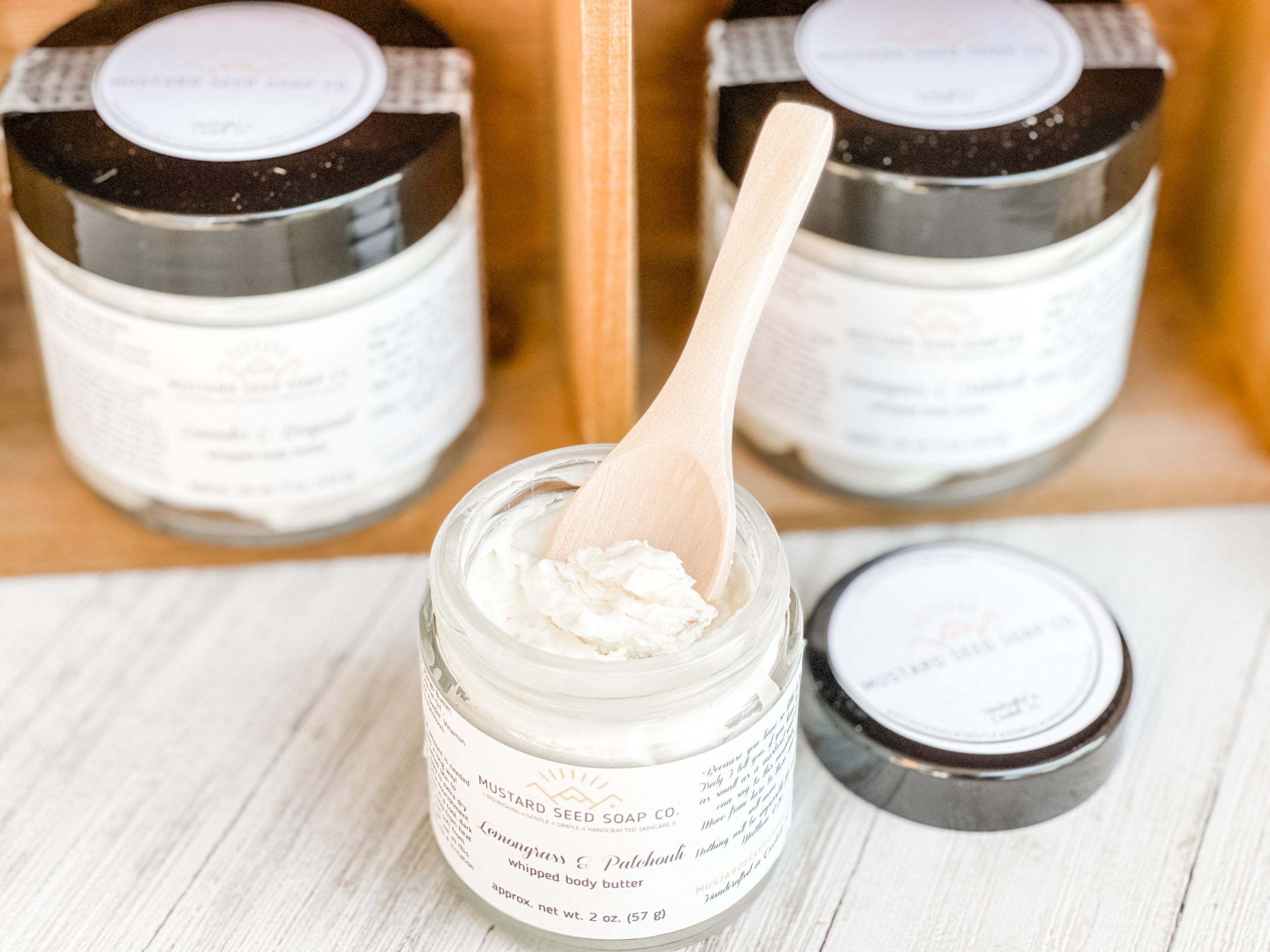 Their soaps feel so moisturizing and they smell amazing! And the lemongrass patchouli body butter, so luxurious! I have quite enjoyed the body butter, and I definitely feel pampered! I received my products in a timely manner, and she kept the body butter cooled off during shipping. Looking forward to trying more products!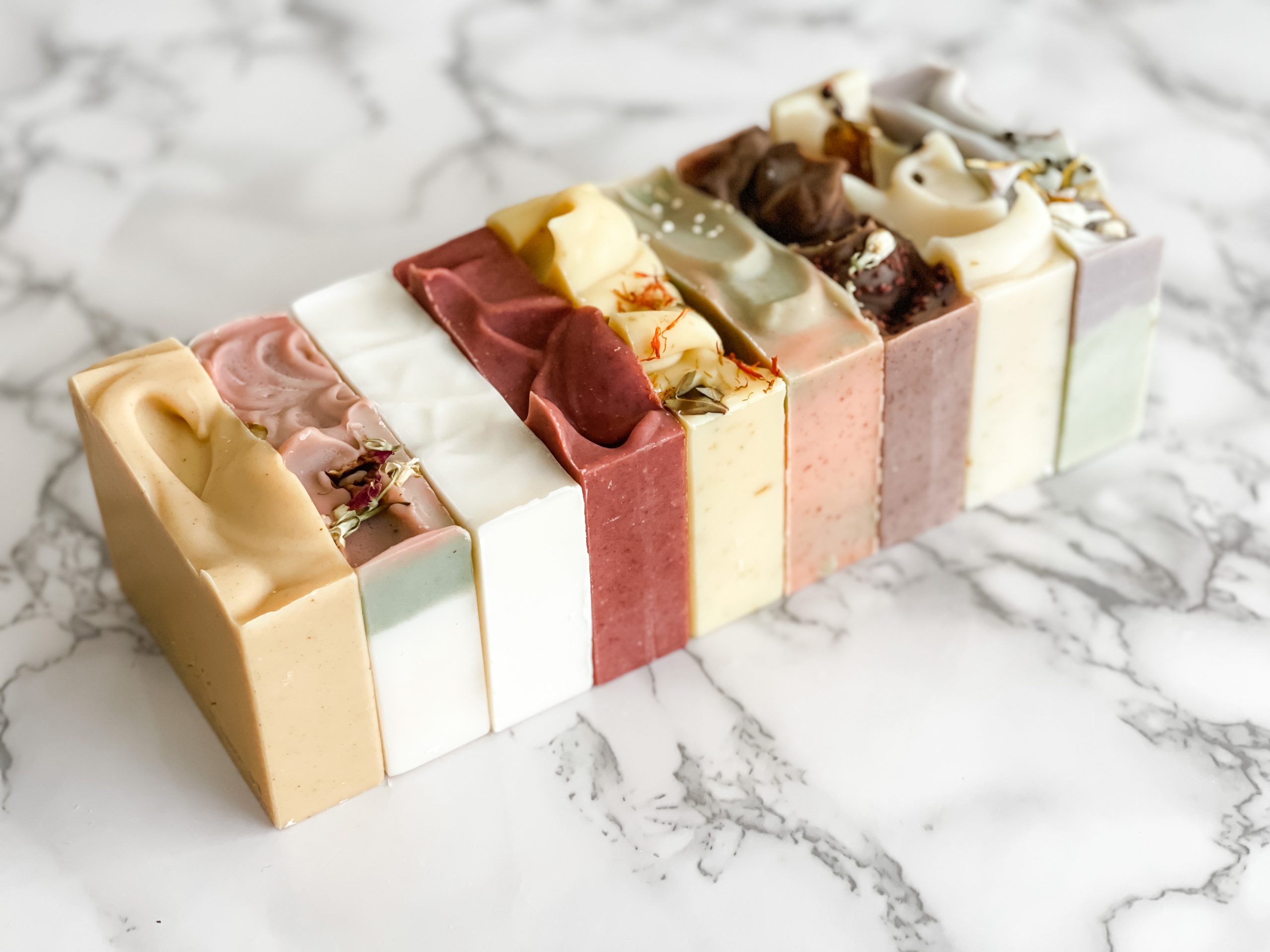 I LOVE these products! I feel like I am opening a sweet Christmas gift the way Dena packages everything with so much love! My hands literally hurt less when I use the lemongrass and patchouli tallow butter! I am so thankful I have found MSS CO!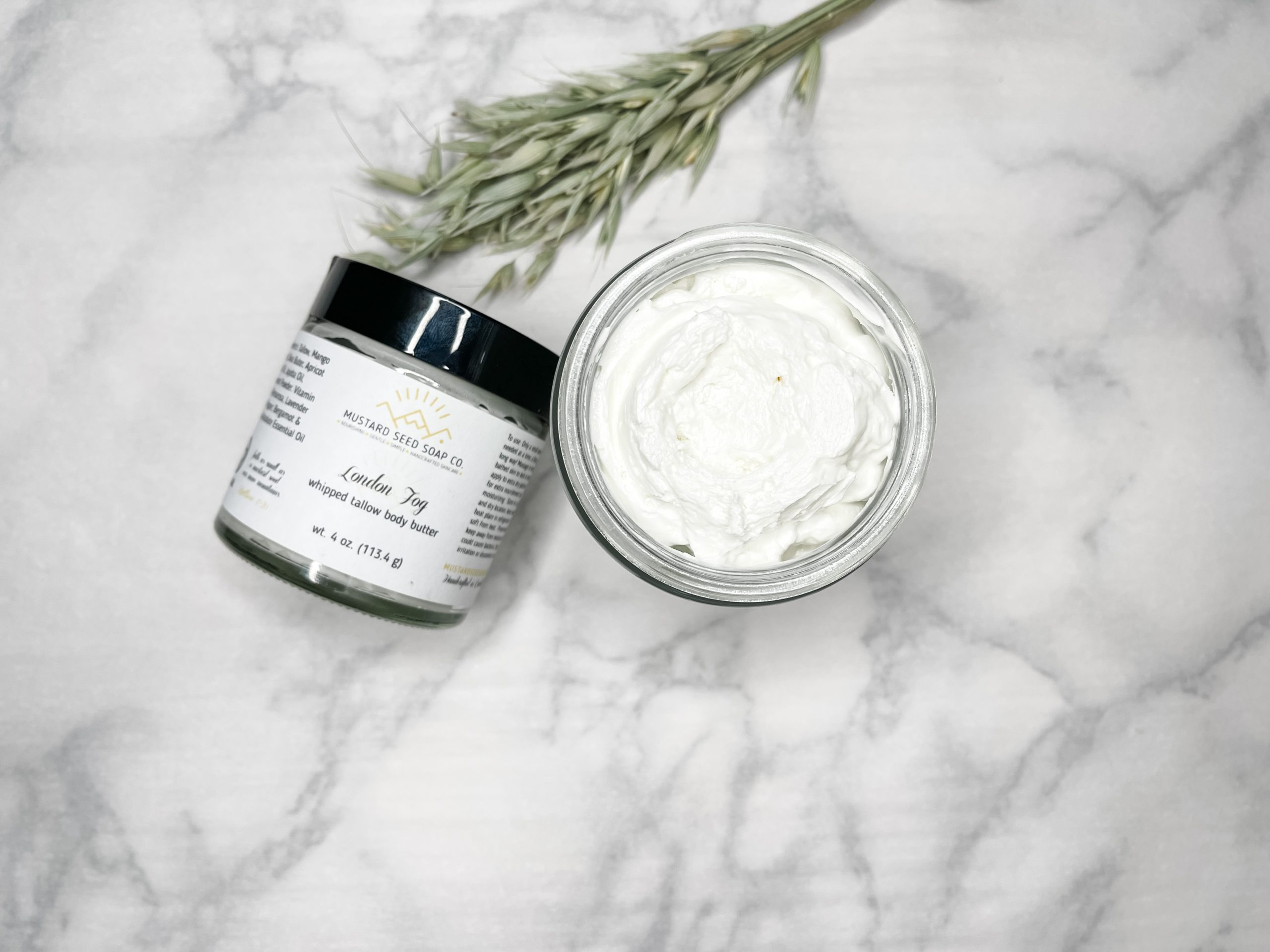 small batch, handcrafted
At Mustard Seed Soap Co we hand make small batches of soap at our little studio in the Pineywoods of East Texas.
Our main soap base is sustainably sourced from Counter Culture Farms, a local grass fed beef farmer. We render down the beef fat ourselves slowly into luxurious 100% pure grass fed Tallow. The base soap recipe we formulated gives you a soap bar that not only cleanses your skin but leaves it feeling soft, moisturized, and nourished. Tallow bars are some of our most favorite luxurious bars, and in our opinion the most nourishing and moisturizing bars you could ever use on your body!
Some of the other ingredients you'll find in our soaps are plant based butters and oils, always only pure essential oils and natural ingredients for color and purpose in the form of activated charcoal, clays, plant powders, and minerals
You can read more about the benefits of each here.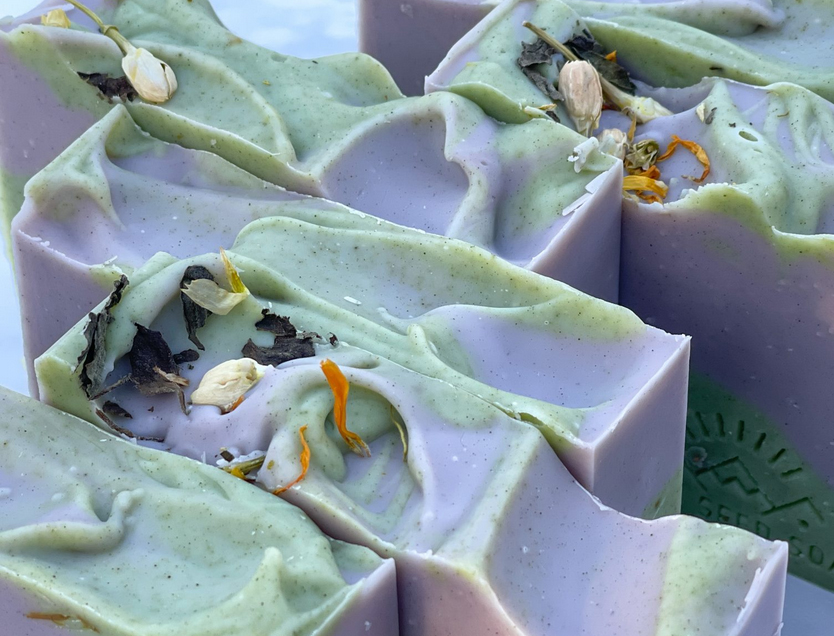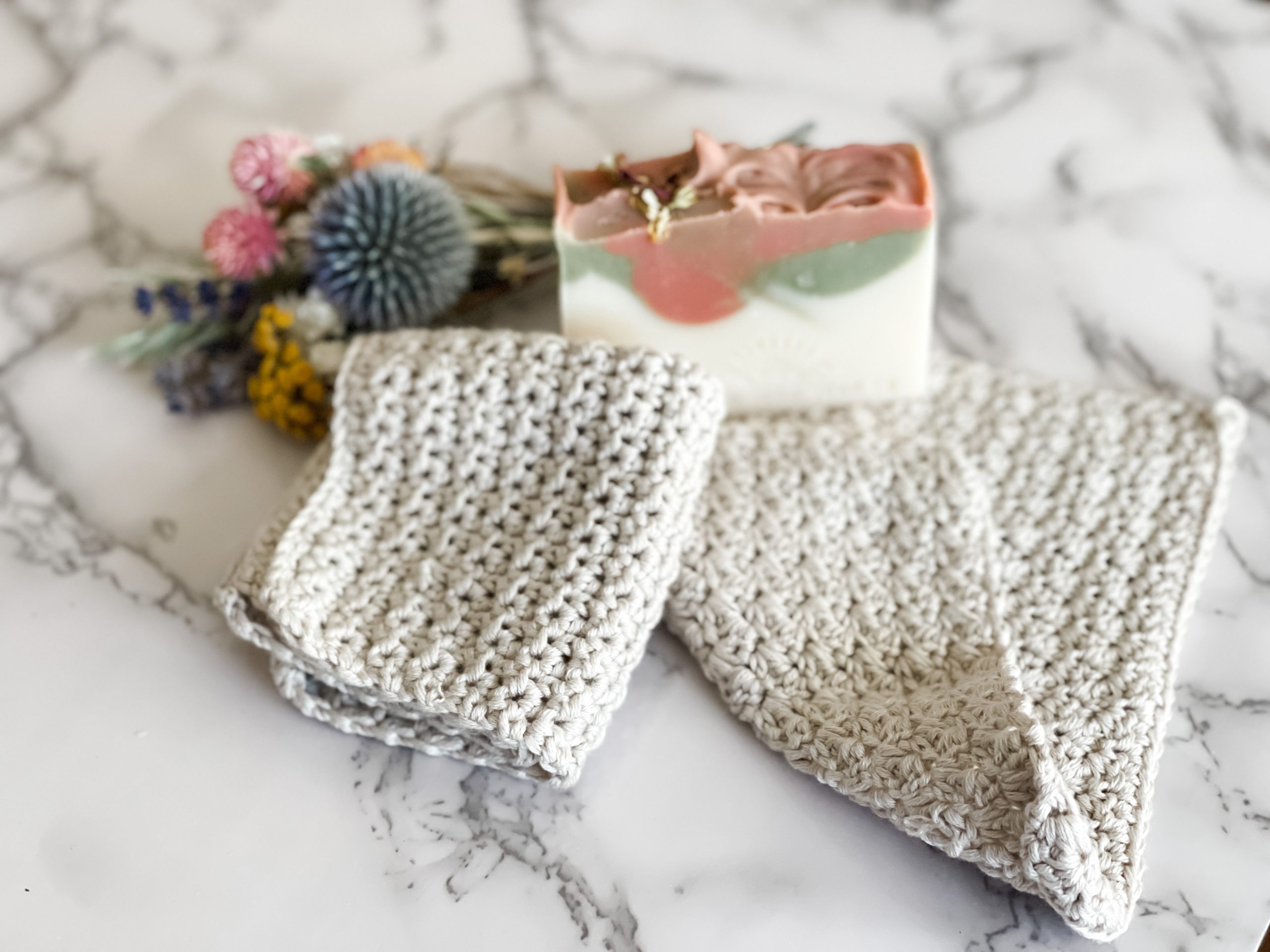 nourishing. gentle. simple. plastic-free waste-free
Not only are our botanical soap bars nourishing and cleansing, but they have very minimal wrapping.  The the single band wrapping they do have is made from recycled paper.  Our botanical bars are beautiful AND useful, we suggest pairing one of our hand crocheted wash cloths with your bar instead of that yuck plastic poof.  Using our botanical soap bars, shampoo/conditioner bars is not only helpful in keeping plastics out of our landfills, but will also eliminate cluttering up space in your bath & shower stalls.
Every one of our products are free from plastics, and either packaged in recyclable containers or 100% compostable containers/wrapping.  Our packaging & shipping containers are all made from recycled material.  Whenever possible we will re-use previous shipping materials such as void paper that we shred and use as padding in our product shipping boxes.